Golfing Holidays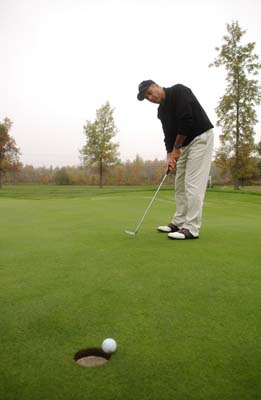 Why not combine your passion for golf with a holiday in the UK. Here is a wide selection of UK Hotels, Guesthouses, Holiday Parks, Camping and Caravan sites that have or are near golf courses.
All of the holiday accommodation featured in this site have a golf course on site or near by.
Combining golf with a family holiday
What better way to enjoy the calm relaxation of golf with a holiday.  We all know that not all of the family are as into golfing holidays as we are so its important to find a holiday that both meets your needs as a golfer but also has plenty of other things to do for the less keen golfers in the family.
Enjoy a holiday near the UK's best golf courses
There are undoubtedly some fantastic golf courses in the UK and as a keen golfer you will want to play as many of them as possible.  Many courses allow you to book one round or buy a pass for a week.  Its worth thinking about how many times you plan to play golf whilst on your holiday to get the best green fees.  Holiday owners are usually very friendly and approachable so before you arrive it can be a good idea to check the best way to get the most our of your golfing holiday.
Discounted green fees
If you are planning a holiday or break at a hotel, guest house or holiday park its well worth checking with the owner about the local golf course as some will have come to special arrangements to offer discounted access. 
Book online
We all know that the internet can often offer better deals than in shops or on the phone.  The same can apply to both the holiday accommodation as well as green fees.  Some golf courses offer discounts to purchase access online either directly or through independent websites.
We are an independent site so it's important to check with the accommodation owner that a holiday suits your needs.